Today we are finishing the second part of our A-Z 1-2-3 (29 Tips for a Stronger Marriage). Make sure to read Part One if you missed it!
29 Tips for a Stronger Marriage Part Two
Overcome – Overcome those challenges together! Challenge doesn't mean easy. It's a lot of work. But when you overcome you have joy!
Priority – Make your marriage your priority! Every day when my husband leaves for work. I always give him a kiss and tell him to have a good day. When he comes home, he comes right to me and gives me a kiss and asks how my day was. He usually knows most since we talk or text throughout the day. But it's nice to know he cares. I also return by asking him how his day was. If I'm in the middle of something with the blog and he is in need of my time. I stop what I'm doing to spend that time with him. By me doing this, he knows that he is more important!
Quality Time – Time is usually something that gets in the way. Make time for each other and make it quality time! Don't look at your email, read a new text. They will all be there when you are done!
Romance – Keep the Romance Alive! Do those little things that show your spouse how much you love them. Don't wait until Valentine's Day to do these things, do them all year long!
Say Those Three Little Words – Say "I Love You" and often! We all need to hear those words.
Trust – This really goes without saying but I will tell you what I have always told my children. "Trust is easier to keep than it is to loose it and try to gain it back"
Unity – Be unified in your marriage. This doesn't mean being the same, it is wanting the same things in your marriage and family. Being in agreement!
Value Each Other – Show/tell each other how much you value one another!
Work – If you have read any of the above, then you know that marriage is going to be the hardest, most important work you will ever do! It will never stop. You will work at your marriage until the day you die!
X-rated – Yep, I said it! My kids would die right now! It's okay to be X-rated in your bedroom! Keep that intimacy alive!
Yearn for More – I'm not talking about more from your spouse, I'm saying "Always keep striving for a stronger marriage"!
Zealous – Be enthusiastic, be eager, be passionate, and be warm. All the words that add up to Zealous!
Change – Changes happen. Learn to adjust with change. Talk about the changes that are happening or going to happen and work on how you will handle those changes.
Accept Each Other's Differences – As stated before, we are all different! How boring would it be if we were all alike? Yuck! Accept those differences. It's what makes for a beautiful couple!
Surround Yourselves with Good Friends and Family – Be around those that are working toward having a strong marriage and family. You want positive influences not negative!
I hope that you will find some of these tips helpful. I would love to hear some of the things that work in your marriage!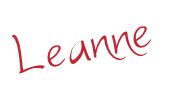 This post may contain affiliate links. All opinions are my own!
The following two tabs change content below.
Leanne is a wife of 30 year, has 3 children and 6 grandchildren. She has been blogging for over 2 1/2 years and love to meet new people. She also love to crochet, craft, and bake. Most importantly, she loves to spend time with her family.