It's hard to believe that this year we will be celebrating 29 years of Marriage! I was married two weeks before my 18th birthday. Yep, I was young! We had only dated 8 months before getting married. We had many say that it wouldn't last. We had all the "odds" against us, but we were determined! Something that I feel lacks in some marriages.
Did we have our problems? You bet! I hate it when I hear someone say that they have the perfect marriage and they never argue. That is just not possible! We are all different and no one is perfect. Those two things combined will cause problems.
We were married two years when we had our first child. Soon after she was born we moved away from family, due to the military. Around our fourth year of marriage we started having problems.
It was then that we went to marriage counseling. We both wanted our marriage to work and we knew we wouldn't be able to do it alone. There is absolutely no shame in getting help! It is because of our drive to keep our marriage going that we have survived the hard times so far.
Our kids tell us that we are "Old Fashioned". Truth is, we probably are. It is what works for us. You might disagree, and that's okay. In our home my husband is the head of the house. That does NOT mean that I have no say.
The best way to explain it is…Have you ever seen the movie My Big Fat Greek Wedding? When the mother is talking to the daughter about her dad being the head of the house. She says "The man is the head of the house, but the woman is the neck, and she can turn the head any way she wants"! I still have a say in our home!
Now that you know a little more about us. I want to share with you our A-Z 1-2-3 (29 tips for a stronger marriage)
29 Tips for a Stronger Marriage
Affection – Show affection toward each other often. It might just gross your kids out, but it's also important for them to see the affection you have for each other!
Be You – Don't try to change your spouse. It is who they are. Who you married. If you think that you will be able to change something after you are married, you are setting up for a huge disappointment.
Communicate – This isn't something that is in passing. Take time to listen actively. Join in on the conversation. I know there have been times that I have told my husband to use his words! This is one thing that will make or break a marriage.
Dream – It's okay to dream. Dream your own dreams and have dreams that you share with each other!
Encourage – Be each other's cheerleader! When my husband gets discouraged at work I don't add to it, I encourage him. Let him know that he can do it! He does the same for me. He is my biggest cheerleader in my work for this blog.
Forgive – I know, sometimes easier said than done! It won't happen overnight. You must work at it! If your marriage is important to you, this must be done! Don't live in the past. It will not help your marriage in the future!
Good Listener – There are many times that one of us need to vent. Listen! It may be about you, it might just be about a situation in your life at the time. Your spouse needs to know that you are there for them. Even if it's just for a sounding board.
Honest – Be honest with your spouse. If you messed up….admit it! If you don't like something….admit it! Now I'm not saying to be mean about it. There are ways of conveying your feelings about something without being hurtful!
Improve Each Day – As I said above, we live in an imperfect world, meaning imperfect marriages. Strive to improve or strengthen your marriage each day.
Joy – Find the Joy in your marriage! Write them down, share them with each other. Pull them out during those "less joyful" moments.
Kindness – People do Random Acts of Kindness for others. Have you ever done them for your spouse?
Live, Laugh, Love – Live every moment, Laugh every day, Love beyond words! My most favorite saying. It is throughout our home. It is what we strive for every day. Nothing brings me more joy than to see my husband smile and laugh!
Money – Yes, I know, ugh! Money is one the top reason for divorce. It is important that from the very beginning you are open and honest with each other in regards to your financial situation. Work together on it. Know where your weaknesses are and work out a plan to overcome those weaknesses. If you have the desire to make your marriage work, you should have the desire to work at your finances.
Never Go To Bed Angry – Right! Okay, I will say that we do strive for this, but in reality it isn't always doable. We are only human. Sometimes the argument is something that needs to be tabled until emotions are in check. Yes, that means that it might just have to wait for the next day. Even then, we may be angry with each other but we still sleep in the same bed. More than likely on our own sides! There have been many times that while laying on our own sides, we end up in a calm conversation about the disagreement.
Come back tomorrow to read part two!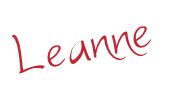 This post may contain affiliate links. All opinions are my own!
The following two tabs change content below.
Leanne is a wife of 30 year, has 3 children and 6 grandchildren. She has been blogging for over 2 1/2 years and love to meet new people. She also love to crochet, craft, and bake. Most importantly, she loves to spend time with her family.