I have been there and I'm sure many of you have too. Trying to be the perfect wife, mother and friend. Wanting the perfect marriage, home, meals and well-behaved children. Making things from scratch, because that's what moms do.
Nowadays you even have Pinterest. Those perfect looking meals, beautiful home decor (that of course you make yourself). The amazing birthday parties, that will break the bank and the endless advice (including this one) on how to in life! Anything from self-help to relationships to parenting and everything in-between!
Please Note: This post contains affiliate links. See our disclosure policy for more information.
Why You Should Not Be Striving for Perfection
The stress just keeps piling on as we continue to strive for perfection. I'm sure you have heard the saying "No one is perfect". No matter how hard we try there is always going to be room for improvement. We are human after all, and again I say to you, No one is perfect!
Some people call it minimalist and others call it simple living. Maybe the reasons these are becoming popular is because we have too much in our life. Maybe it is this way of living that is perfect. You see, "perfection is in the eye of the beholder".
Instead of Perfection
Instead of worrying about that perfect meal – how about feeling accomplished for getting a meal on the table!
Instead of having the perfect home decor – how about being grateful that you have a roof over your head. Put some pictures of loved ones up!
Instead of having everything in its perfect place – how about accepting things as they are. A home that is truly a lived-in home.
Instead of being the perfect mother – how about just spending precious time with your children. They already think you are great!
Instead of having the perfect marriage – how about nurturing your marriage one day at a time.
Finally, instead of striving for perfection, why not accept the imperfections in life. It is those imperfections that make us who we are!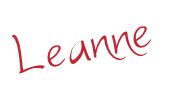 This post may contain affiliate links. All opinions are my own!
The following two tabs change content below.
Leanne is a wife of 30 year, has 3 children and 6 grandchildren. She has been blogging for over 2 1/2 years and love to meet new people. She also love to crochet, craft, and bake. Most importantly, she loves to spend time with her family.