**Updated Note – I was literally almost finished with this post when the terrible shooting happened in Orlando, Florida. Please know that y'all are in our thoughts and prayers. We are all Americans First and foremost! It is because we are American's that we are able to have our different beliefs! We as Americans need to come together. You will see as you read this post, that I talked about how there is good out there. We saw this this past weekend! Remember to always look for the good!
Does anyone else get weary when listening to the news, or even when you scroll through Facebook? It seems that I have been having this issue lately. Why all the hate?
Last week my son came in angry and wanted to show me a video of some of the protests in California. I was leery to watch but he started showing it to me before I could say anything. You see, I have stopped watching the news. I scroll past anything negative in Facebook and other social media. The reason? It's simple. Whenever I was watching or reading I would literally get a heavy heart. Now I'm not naive. I know these things happen. I also get so emotionally involved when reading or watching about that I begin to hate. It is not a place where I want to go.
Anyway, back to the video….while watching, my heart got heavy, I grew angry and started feeling a little hate toward the people that were being cruel.
Do you see why I stopped watching and reading negative news? Now before you say that I'm not keeping informed, let me explain what I do. I will scan headlines. I won't click to read but just scan. If It's something that I feel I need to know more about, I will do my own search. This way I have more control over what I'm reading.
My personal feeling is that if we watch these things, we are promoting the news that is shared. Then we are saying "it's okay to be hateful", "it's okay to be negative" and "it's the news I want to see most!".
Just think about it for a minute. Say there are 2 different news posts that are on your Facebook feed. One is that of a protest and one is a post about someone helping another person. How do each of these news feeds make you feel?
There is so much good in the world! It is usually not in the news (if it was I would actually watch it!) and it doesn't take up most of your news feed on Facebook (except mine!). If you want to see all the good out there search for it! Share it every day! Let others know that there is more than hate out there. Set your Facebook feed up so that you block negative posts and that they "show more" of the positive post out there. I do get some negative ones that will slip through and I just scroll on by! There is always good! Find it!
You can't control all the hate that enters your lives, but you do have control of some of it! So if you are like me, you might want to consider these suggestions.
Control the Hate that Enters Your Life:
Don't share negative news.
Share and read/watch inspirational, caring, fun and funny new/videos.
Fill your life with the positives not negatives.
Know that there is hate out there and make sure to guard yourself against it.
How do you control hate entering into your life?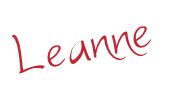 This post may contain affiliate links. All opinions are my own!
The following two tabs change content below.
Leanne is a wife of 30 year, has 3 children and 6 grandchildren. She has been blogging for over 2 1/2 years and love to meet new people. She also love to crochet, craft, and bake. Most importantly, she loves to spend time with her family.