Valentine's Day is coming up quick! Today we have a Valentine's Day Printable to help you decorate.
As most of you know, I am not a huge fan of Valentine's Day. I expressed this last year when I shared our mantel. I feel that love should be shown throughout the year and not just on one special day! With having grandchildren in the house we try to decorate a little for each Holiday.
Thank goodness Samantha had made up these printables for our mantel this year. Otherwise the mantel might just be bare! Samantha has become our "go-to" for printables. She made one black and white and another one in color! These are 4×6.
The girls did an awesome job!
Am I the only one that has these feelings toward Valentine's Day?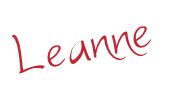 This post may contain affiliate links. All opinions are my own!
The following two tabs change content below.
Leanne is a wife of 30 year, has 3 children and 6 grandchildren. She has been blogging for over 2 1/2 years and love to meet new people. She also love to crochet, craft, and bake. Most importantly, she loves to spend time with her family.