I swore I would not turn this blog into a "sharing our story" blog! Due to something I recently saw, I feel that it's time to talk about the "unknown" disease and how to heal from the inside.
Disclaimer
First off, I am not a physician! I'm an average person, sharing our own story in the hopes that it might help just one person.
Please Note: This post contains affiliate links. See our disclosure policy for more information.
How to Heal from the Inside
I recently came across a Facebook post that talks about what is in our cereal. Now this has been floating around the internet for several years. It's about having TSP (Trisodium Phosphate) in our cereal and yes, it's also used as a paint thinner and it's also in numerous processed foods. It wasn't what he was saying so much, as it was the comments that were made. Are people so blind as to think that if it's FDA Approved we are fine to consume it? That it's not going to eventually take its toll on our bodies?
People were stating "I've been eating that for years and I'm fine", "It's not the same as the chemical make-up of the paint-thinner". Okay, so it's not the chemical make-up as paint thinner. The point is that it is chemically made. Now let me tell you, I'm the daughter of a chemist. He also doesn't have a problem with it either, but I do and I'm going to explain why.
Before I start the story please know that this is not to scare you, this is to inform. I believe that you should always keep learning!
Our Story
In 2004 my hubs came home from working nights. I was getting ready to take our daughter to the doctor due to a high fever. He walked in and said "I think you need to take me to the ER. I'm having chest pains." Just as calm as could be. So, we quickly left for the ER. We dropped my daughter off at the doctor's office, where my mom was waiting.
We entered the ER. They asked him when was the last time he was seen there. His statement, "when I was born"! We were told after testing that it didn't look like a heart attack, but they wanted to keep him over night to run more testing. They were concerned because his CPK (creatine phosphokinase) level was crazy high. 100+ times what is normal.
He was released the next day with no answers except "We don't know why, but your muscles seem to be breaking down." Yes, the heart is a muscle! He was told to see his primary care physician.
Years Later
After years, and I do mean years of testing, muscle biopsies, going to Barn's Jewish Hospital in St. Louis and Mayo Clinic in Minnesota. After being on disability 2-3 times a year, we felt helpless.
When he would have what the doctors called a "flare-up", he could barely move. He needed help with everything from getting dressed to not being able to open a jar that had already been opened. This would be hard for anyone to have to endure. It was extremely hard for my husband who is a millwright. Going from physical labor to needing help with opening a jar.
We Had Enough
The last place we visited was Mayo Clinic. We spent a week there. He went through all the same, sometimes extremely painful testing with no new answers.
When we returned home, it was decided that if we wanted improvement we were going to have to find it ourselves. With Gods help of course!
The Research
We researched. Oh boy did we research! We read about essential oils and organic foods. You must realize, at that time (2007) we lived in rural Central Illinois. These things were not readily available and they were not cheap! I read labels on the foods. Researched what some of the things were. If I couldn't pronounce it and didn't know what it was, I would not buy it!
We found a local nutrition store to buy some of the food and ordered essential oils. To get more of a selection of food we would visit our local Kroger store. At that time, it was a very small selection. We would drive 2 ½ hours to a Whole Foods store. Now remember, he was on disability 2-3 times a year. Our financial situation wasn't the greatest. We made it work! I prepared everything from scratch and gave away anything not opened and not organic.
We experimented with different essential oils to find what would help. We used (made) non-toxic cleaners to clean with. Essential Oils became a routine. We decided that if it was good enough during biblical times, it's good enough now! After years of using Essential Oils, the most important thing that we have learns is quality really does matter!
Did It Work?
He started feeling better! We were skeptical at first, thinking that his "flare-up" was ending. When he didn't have another flare-up for a year, we knew we had found some relief. One time a year was better than 2-3 times a year.
We were excited, but still wanted him to not have any flare-ups. The more we talked, thought, and prayed about it, the more we realized that his job might be contributing to it. It wasn't until our daughter and her husband moved to Texas for the Army, that we realized this is where we needed to be. We had gone down to visit and when we returned, all we wanted was to be back in Texas.
The Journey Began
We returned home in February and hubs started looking for a job. His mother was very sick and we knew we didn't want to move until she had passed. In May, 3 days after his mother passed we received a call for an interview. By July 3rd we put our house on the market and made the move to Texas.
Hubs is still a millwright and loves what he does. Because of the change in his work environment he has not had a flare-up since the move in 2010, until this past year.
The Latest Flare-up
We know what happened and why he had this latest flare-up. It wasn't as bad as in the past. Meaning, he didn't have to go on disability. It was a flare-up nonetheless and was because we had become lax in our way of living. We are now working on getting back to our organics. We never really gave up on essential oils, we just needed to find the high-quality oils, which we have!
I know this was long, but I felt the need to share. I am not telling you this story to scare you. People need to be well-informed. I'm not a professional in any of these areas, but I do have real-life experience in them.
The Looks and Comments
We still get funny looks or comments about wasting money or a "whatever, it's FDA approved". All I can say is, it works for us! My husband is still alive and able to do the job he loves, and he can play with our grandchildren. My mom told me not to long ago, she believes if we had stayed in Illinois with hubs working at his old job he wouldn't be with us today. I truly believe this!
There are more toxins in our everyday life than ever before. We know that my husband isn't "cured" from the "unknown disease". I don't know if he ever will be. What I do know and have learned over the past 13 years is that we don't pay enough attention to the toxins in our everyday life. We eat whatever is on the shelf, without reading the labels. We blindly accept that it's okay to eat, without researching.
So, the next time you grab something off the shelf at the store, read the ingredients label! Just because it's FDA approved does not mean you should be eating it!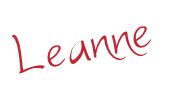 This post may contain affiliate links. All opinions are my own!
The following two tabs change content below.
Leanne is a wife of 30 year, has 3 children and 6 grandchildren. She has been blogging for over 2 1/2 years and love to meet new people. She also love to crochet, craft, and bake. Most importantly, she loves to spend time with her family.