You are probably wondering why a post about blogging? If you will read some more, I'll explain our why. There are so many sites out there that talk about blogging. Over the years I've learned some things that I feel might be helpful to those thinking about blogging or just starting out. So here is the truth about blogging and how to succeed. At least my version of it. 🙂
The Why
If you read the post about How to Pursue Your Passions with Chronic Pain, then you understand why. Blogging is one of my passions, so it feels right to add it to the blog. I do feel that after 3 ½ years of blogging, I have some advice to share. We also share about saving and making money, so this will fit right in.
The Truth about Blogging and How to Succeed
Please Note: This post contains affiliate links. See our disclosure policy for more information.
The Truth
Blogging is Not for the Weak
Yes, there are those out there that have been "over-night" success stories. Believe me when I say, they are not the norm. As a matter of fact, more blogs fail than succeed. I'm not trying to scare you out of blogging, but as the title states The Truth about blogging.
Blogging is a Lot of Work
Oh, you know it! If you're not careful you can get bloggers burn-out very quickly.
Blogging is a Marathon Not a Sprint
In blogging, you will quickly realize that the work is never done. There will always be posts to write, social media work, the "back-end" of the blog that is always a work in progress. The list goes on and on.
What Works for One Doesn't Always Work for All
Bloggers share what works for them in hopes to help other bloggers. What you need to realize, every blogger is different. Their following are different and what they blog about is different. You will need to find what is best for your blog.
Networking is Fun, Hard and Worth It!
For me, an introvert, networking is hard, but can be fun. If you are an extrovert networking will come easy for you. Either way, it is fun getting to know other bloggers.
Bloggers are the Most Helpful People on the Internet
It's true! Most bloggers love to help others. Spend any time on their blogs and you will see it for yourself.
You do Not Have to Niche Down to Succeed!
You will hear that the only way to succeed is to niche down to a very specific topic. I am going to go against most and say this is not completely true. If you want to make money fast then yes, the more specific the niche, the better.
You can still make money without being a specific niche. We started our blog as a family. We wanted to cover all areas for busy, frugal moms. I kept telling Samantha that everyone was saying to niche down. Samantha's response? "Mom, life is not a niche!" She was right. Our blog is about mom life. We have a very large niche and we love it. Sure we have to work harder to make money, but we are doing what we love!
How to Succeed
Sure, it only takes minutes to set up your blog, but how do you succeed in blogging.
I have not failed, I have found 10,000 ways that won't work! – Thomas A. Edison
How to Measure Your Success
There is no one thing that measures success. You see, success is different for each of us. You might think in ways of money or subscribers. Another blogger might think of it as social media followers or pageviews. You know what I think? I feel that if you are making progress each month (no matter how small), you are succeeding!
Trial and Error
You will need to find what works for your blog. Try something out for a month. If it didn't work, move on and try something else. Just in the Pinterest world alone, there are so many different suggestions on how to gain followers. What works for one, doesn't necessarily work for all! (Yep I felt it worth repeating!) Blogging is trial and error!
Be Consistent
Everyone says this because it's true! There isn't a "magic" number of posts per week. (although Google likes at least one post per week) Start small, if you want to add to your schedule great. Adding to it is better than taking away. I'll be honest, this has been hard for me to do. Work in progress, right?
Make a To-Do List Daily
By making a list daily, you will be able to keep on track. Do not make it extremely long. It will overwhelm you. Remember, this is a marathon. Also, don't get discouraged if you do not complete your list. Just add what wasn't done to your next day's list.
Take a Break
When first starting out things can get a little overwhelming. Okay, who am I kidding, any blogger can get overwhelmed! Take a break. I'm not saying stop! When that overwhelming feeling hits, step back. Do something different. (Not blog related!) When you get back to it you are refreshed and ready to push through.
Network, Network, Network
As I said before, bloggers love to help each other. We love sharing each other's posts and collaborating. Get to know other bloggers. This is one of the main key's to succeeding!
Get Out There and Be Seen
Share your posts any chance you get. Join Facebook Groups and Pinterest Boards. Join in on Twitter Chats. Share to all of your social media sites as often as possible. Remember that saying "if you build it they will come"? It does not hold true to blogging. You need to build it and share it for it to be seen!
You Don't Have to Pay a Fortune to Learn About Blogging
Courses are all the rage. Don't get me wrong, I have taken some courses. It's just that I refuse to pay an outrageous amount for a course. The reason for this is I got "burned". I paid a large amount for a course and didn't learn anything useful that I already didn't know. After that class, the most I have paid was $197 for Making Sense of Affiliate Marketing. It was worth every penny and has already paid for itself. After getting burned I set my limit to $100 or less, but I made the exception for Making Sense of Affiliate Marketing. I will share with you at the end the ones that have helped tremendously!
For the Love of All that is Good!!!!!
Okay, I know, a little dramatic. I wanted to get your attention. 😊
No matter where you are in your blogging, please, oh please make sure your site has these 3 things:
Social Media Buttons – These need to be very visible! Please don't make the reader search for them. If your reader can't find them quickly, they will move on. You want them to follow you on all of your social media. They need to be seen! My buttons came with my theme. There are many plugins out there that you can get to add your Social Media buttons.
Share Buttons – Not just in one spot, but top, bottom and side! Make sure they have the option to choose the media to share on. I use Shareaholic. It is easy to configure and you can change the colors to match your theme. I use the free version, but they do have a Pro.
Pinterest image size matters! I can't tell you the number of times I wanted to pin a post on Pinterest. I am trying to clean up my Pinterest, so I will not pin a post that doesn't give the option for a Pinterest graphic. Know that most bloggers are the same way. If you want your content seen, you need to have a Pinworthy graphic! They need to be at least 735 x 1102.
A Few Resources We Highly Recommend
Blogging Sites You Must Visit
These sites have been pivotal in my learning about blogging and getting my site where it is today
Learn to Blog Hangouts (Kelli and Crystal)
Women Winning Online (Jennifer)
If you don't sign up for all their newsletters, may I suggest at least signing up for Jennifer's. They all share great content. Jennifer just goes beyond the "normal" newsletter. They are so full of information that I have literally saved each one of her newsletters!
Courses That Are Worth Every Penny!
Making Sense of Affiliate Marketing by Michelle at Making Sense of Cents
Find Your Tribe Online by Jennifer Snyder at Women Winning Online
Skyrocket Blog Pageviews by Crystal and Kelli at Learn to Blog Hangouts
Dominate by Crystal and Kelli at Learn to Blog Hangouts
Absolute Must Read Books
Blogging on the Side: Where Passion and Profit Meet by Becky and Paula @ Becky & Paula
Check out some of the other great books that Becky and Paula have written!
Building a Framework by Abby Lawson at Just a Girl and Her Blog
How to Blog for Profit Without Selling Your Soul by Ruth Soukup at Living Well, Spending Less
Blogging has been the most challenging, time-consuming, and best job I have ever had! It has it's up's and down's, but with each one you learn and grow.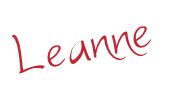 This post may contain affiliate links. All opinions are my own!
The following two tabs change content below.
Leanne is a wife of 30 year, has 3 children and 6 grandchildren. She has been blogging for over 2 1/2 years and love to meet new people. She also love to crochet, craft, and bake. Most importantly, she loves to spend time with her family.