How well do you handle change? Are you one who avoids it at all cost, says "yep, another change big deal" or do you Embrace Change? I have 3 Tips on Embracing Change in Your Life.
"Life isn't about waiting for the storm to pass… it's about learning to dance in the rain!" -unknown
Change is inevitable! It happens whether we want it to or not. It is how we handle the change that makes the difference. We are an ever changing world. It's time to conquer the inevitable!
3 Tips on Embracing Change in Your Life
Step back – evaluate the situation. The worst thing you can do is to go diving in head first! Process what is happening.
Acknowledge the change – Yep, it's going to happen no matter what….so now what? We get comfortable in our lives. When change happens it disrupts our comfort zone. We have to acknowledge it and once you do it will help you move forward and….
Embrace it! – You know this is happening, so it's time to think about how to tackle and embrace the change. Take small steps. It can get overwhelming when life throws you a curve, so deal with it in smaller chunks. One question to keep asking yourself – How can I grow and learn from these changes to make me a better person!
I know there is so much more about embracing change that could be covered. There are books upon books about it. These are just some of the basic steps that you can take.


I'm embracing my change!
Some of you may know that last year I had to step away from blogging for a little bit. Because of health reason and being thrown that "curve ball", I just couldn't think about blogging. It took me awhile to Embrace my change. So changes are happening here at Texas Crafty Kitchen!
Do to the fact that I'm slowly loosing the ability to walk without help, I'm going to have to cut back on the diy, crafts and recipes that are shared here. Now don't fret! My daughter and daughter-in-laws will be helping with some of these things, but they just won't be shared as often. It is wonderful to have a blog where the entire family can get involved!
We will be changing from a DIY/Craft site to Lifestyle. Some of the things you will see: Family, The Home, Lifestyle (Travel, Fashion, Style), Making & Saving Money, DIY/Crafts, Style and Shopping Guides.
We are keeping our name. Texas – because that is where we live and love it here! Crafty – we are still a crafty family, I just have to make adjustments. Kitchen – our kitchen is the heartbeat of our home, it's where we gather.
We hope that you will continue to join us on this new journey!
Now go and Embrace Your Change!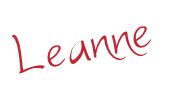 This post may contain affiliate links. All opinions are my own!
The following two tabs change content below.
Leanne is a wife of 30 year, has 3 children and 6 grandchildren. She has been blogging for over 2 1/2 years and love to meet new people. She also love to crochet, craft, and bake. Most importantly, she loves to spend time with her family.