For the past couple of months I have been doing Extreme Couponing. I have come up with some Things You Need to Know Before Extreme Couponing.
If you think that when you go to the store and use a lot of coupons that your cashier and/or store manager are going to cheer you on, you are sadly mistaken. It is not like the TV show! I will share with you why later on. One of the main things you need to think about before you start extreme couponing is, are you willing to give up your favorite brands. You have to be willing to use any and all brands in order for you to make the most out of extreme couponing.
The Pros and Cons of Extreme Couponing
Pros:
Saving lots of money
Building a nice storage
Major help when on a tight budget
Cons:
A lot of work! Collecting, printing, cutting, organizing. It could easily turn into a full-time job.
Constantly keeping up with deals
Having to go to multiple stores
Must have thick skin
Rude people, Cashiers and Managers
Don't get caught up in the hype of it all. Yes, you are saving money. Yes, you are getting a lot of product and Yes, it is a lot of work! Here's how it works. You find coupons that are what they call money makers. You might make .25, .50, $1. on. You get those products that you are making money off of and then with what you make off of it will cover the cost of other items.
Here's an example: There were coupons on cat food that when purchasing the food you were left with an overage of .50.(money maker) Well that is wonderful. I was able to get lots of cat food and the majority my purchases were paid for. Now here's the deal…..we don't have a cat! So, what I did was to donate the cat food to a no-kill kennel.
I did learn, while extreme couponing, that couponers are one of the first to donate. We had severe flooding in our area last month. Couponers were one of the first to get their donations in! Most of the time, couponers are looked down upon, when people don't really see all the good that they do. They endure rude comments, mean looks and sometimes treated down right nasty!
My Own Method
In my 2 months of extreme couponing, I have come to realize that it is not for me. I have taken some of what I've learned and started my own system.
First thing I do is to go to The Krazy Coupon Lady site. She makes it easy to keep up on deals. She also breaks everything down for you as to how she got the deal and with which coupon. You can check mark the deals you want and then print out the list.
Then I take my list and with each one pull out the coupons needed.
I then paperclip the coupons for each deal, add a post-it note on top and write out how to use it.
I do this for each deal and then put them in pile for each store. Since I don't want to bring a huge binder with me to the store. I just bring the coupons from the deals. Yes, I might miss on a deal or two and that's okay. I'm not going to freak out over missing a deal or two, it's not worth the headache!
I also shop online using online coupons and catching sales. It is more convenient for me to shop online. I love that I don't have to go to a bunch of stores, I don't have to deal with extremely rude people, and I don't have to load and unload a cart!
Best and Worse Places to Shop with Coupons for Everyday Items
Best:
Market Basket (Local)
Kroger
Your local grocery store
Worst:
There are 2 main retailers. I will not name names, but I'm sure you can figure them out. They are rude to their coupon customers. They treat you like you are trying to steal from them when you are price matching. They also state that they will price match online stores. This is extremely hard to do. I have accomplished it only one time. Each time you go in the cashier and/or CSM will tell you something different. There is no consistency.
**As a side Note** Did you know that retailers are not responsible for your personal items while in the store? Which means, if you are price matching on your phone and they need approval from a CSM, if they take your phone to show them and they drop it….they are not responsible! Under no circumstances should they touch or take off with your phone!
In Closing:
It has been an interesting couple of months. Extreme Couponing is not for me, but it works well for others. I will still get some great deals and will possibly share some with you! I also will not support businesses that treat their customers the way I was treated, let me tell you it isn't just me! Many couponers are treated this way! So from now on, you will not see me promote those businesses. I will likely loose lots of money from ads because of this decision, but I promised that I would always be honest in my opinion of stores and their products!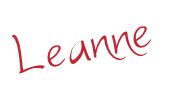 This post may contain affiliate links. All opinions are my own!
The following two tabs change content below.
Leanne is a wife of 30 year, has 3 children and 6 grandchildren. She has been blogging for over 2 1/2 years and love to meet new people. She also love to crochet, craft, and bake. Most importantly, she loves to spend time with her family.