Thanksgiving Traditions
Our last post about Thanksgiving for another year! Thanksgiving Traditions are one of our most important parts of the Holiday.
We have been planning like crazy and getting excited for our feast. Some of the prep work is already going on. I'm sure a lot of y'all are doing the same thing. If's fun to see things come together a little at a time.
This year we are going to have a full home! I'm excited that all my children, grandchildren and some special friends will be with us. It is truly a time to be grateful.
I hope y'all have a wonderful Thanksgiving Week!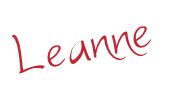 This post may contain affiliate links. All opinions are my own!
The following two tabs change content below.
Leanne is a wife of 30 year, has 3 children and 6 grandchildren. She has been blogging for over 2 1/2 years and love to meet new people. She also love to crochet, craft, and bake. Most importantly, she loves to spend time with her family.