Did your parents teach you to rise above and not stoop to another person's level? I know mine did and we taught it to our children. We need to rise above for peace!
*Disclaimer: I do not usually post about current events. These are my personal feelings and since this is my blog, I will share them. This topic is not a debate! Comments will be monitored.
Rise Above and Do Not Stoop
I was taught the Golden Rule. "Do Unto Other's as You Would Have Done Unto You". I consider myself your average American. My love for God, Family and Country (in that order!) is firm.
Any human with a conscious would agree that what happened in Charlottesville was horrific! So why all the protests? I know that we have the right to protest and I'm fine with it until it becomes out of control. If these are "Peaceful" protest and vigils, why are there arrests?
Stop the Blaming
Oh, I know, it's the Cops fault, right? Come on y'all! They are here to protect and serve. You can bash them all you want, but when you or a family member are in trouble the first call you are making is 911. I'm not naive, I know there are "bad" cops out there. There is good and bad in all of us. I'm sure you have heard the saying, "one spoiled apple will ruin the bunch". There is truth to that. It is shown with police, it happens in your job and in the terrible act that happened the other day.
Don't you see, by rallying and causing chaos you are no better than the one driving the car. What are you teaching the youth of this Country? How about your own children? What is it really solving?
We the People
The division and hate in this Country needs to stop! The joy of living in the United States of America is that We the People have rights. We have the right to disagree, to have our religion, and yes, to protest. We have the right to be kind, to be caring and to love. We also have the right to hate, be mean and deceitful. We have the right to choose our path in life. If we choose to be kind, caring and to love, we will over-power those that choose to be hateful, mean and deceitful.
Showing Kindness is an Act of Great Strength
Instead of protest rallies, how about rallying around someone in need? How about saying thank you, opening a door, or saying Good Morning.
I choose to Rise Above! So instead of attending a rally or vigil, I will strive to be more caring. I will help others when possible and strive to be kind to all. I will honor those who lost their lives to evil by spreading good.
Rise Above for Peace Challenge
I challenge you to join me in spreading true peace across this Country. Let's Rise Above for Peace! Share something you have done that shows kindness, love, caring for another. There is good out there, now lets spread it!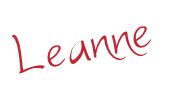 This post may contain affiliate links. All opinions are my own!
The following two tabs change content below.
Leanne is a wife of 30 year, has 3 children and 6 grandchildren. She has been blogging for over 2 1/2 years and love to meet new people. She also love to crochet, craft, and bake. Most importantly, she loves to spend time with her family.