Looking for a last minute gift? This Quick and Easy Homemade Creative Center Gift just might be the greatest gift a child receives!
This has been one of those months that you just wish would get better. We have had one thing after another happen, which has put me extremely behind in anything and everything Christmas! As I was trying to think of something fun for my grandsons, Ashley at 3 Little Greenwoods posted Have an ARTSY Little Christmas on our #Make It Challenge Dollar Store Gift Ideas.
It reminded me of a gift my mom did for each family years ago. She put together a creative center. The kids absolutely loved it! Each year after giving them their creative center, they would get a refill gift. Meaning, she would give more supplies to replace the supplies used throughout the year. My kids would look forward to getting new supplies each year! This is a great gift for any child. It does not have to be a Christmas gift. It would work for any occasion!
Here is what you will need:
1 Large Storage Container
(I chose one that would be able to slide under a bed so as not to get in the way)
1 Shoe Box Sized Container

Paint Markers for Decorating
(although you can decorate any way you want!)
Arts and Craft Supplies (I purchase the majority of the supplies at the Dollar Tree with a few items purchased at Hobby Lobby)
**Note**
You do not have to be able to draw your project! We are lucky enough to have an artist in the family. Brittany did the free-hand drawing. If I were to do it, it would have been sticker letters and lots of cute stickers to decorate!
That's it!
*This post contains affiliate links. I receive commission on sales made through the links. It help in keeping this blog running. You can read my Disclosure page for more information*
So get creative and have a blast! I'm so excited to give these to the little ones!


Y'all have a wonderful Wednesday!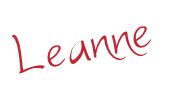 This post may contain affiliate links. All opinions are my own!
The following two tabs change content below.
Leanne is a wife of 30 year, has 3 children and 6 grandchildren. She has been blogging for over 2 1/2 years and love to meet new people. She also love to crochet, craft, and bake. Most importantly, she loves to spend time with her family.