Couponing is our main way of saving money on groceries. That and of course sale ads! The past 2 months I have been grocery shopping online and realized, it is possible to be frugal with grocery shopping online!
My kids tell me I'm old-fashion. (I still write every single post on paper before typing them!) I'm okay with that, but recently I have had to embrace some changes. It's very difficult to do for someone old-fashioned like me!
Please Note: This post contains affiliate links. See our disclosure policy for more information. It is not a sponsored post where they pay us to write an article. Even though, with sponsored posts we always share our true opinion!
As my health struggles get worse, my family physician suggested that I limit my time in stores. Really? I need to see what is in the store so I don't forget anything! The two main stores I go to are HEB (a Texas Grocery Store) and Walmart. She suggested that I try the Walmart grocery pick up.
Are you kidding me?!? What about coupons? How was I going to be a frugal shopper without my coupons?
Let me tell you, I was frugal and I will never go back!
Being Frugal with Grocery Shopping Online
Check All Your Local Ads – If it's on sale, buy it at Walmart. Yep, I know, crazy! Here's that catch. Once you purchase your item and pick them up, a receipt will be sent to you via email. There will be a number to add to your Walmart Savings Catcher that will price match those items on sale. They will give you money back in your savings catcher account.
As you are Shopping You are Saving – Whether you realize it or not, you are saving as you shop. Your basket stays open on the side of your screen. You are seeing your total as you add items to your basket. You know your budget and will be able to keep within the budget better. Plus, no big surprises at the checkout!
No Unnecessary Purchases – When you shop in the store, there are always items placed out to "catch your eye". Things you really don't need, but put them in your cart anyway. Shopping online takes that away and you can focus on your needs.
Truth Time – I will be honest with you about the produce. I do not purchase my produce at Walmart, so I cannot share my experiences with their selection process. My doctor has and she loves it.
Who Will Benefit from Grocery Shopping Online? – Everyone! Mom's, Dad's, Young, Old. It's a time-saver! Who doesn't love to save some precious time!
Yep, no more "mama can I have", "mama, I want", and in-store meltdowns. Order online and set up a pick-up time. Check in before you leave and they are waiting for you when you get there. No need to get out of the car! They will go over your order with you. If they made changes or didn't have the item in stock they will let you know. Each time I've gone, there have been a couple items they needed to replace with a different item. They did an amazing job at finding items similar and within pennies of the original item.
Once they have gone over your list, they load your vehicle, you sign and you are on your way! Ten to Fifteen minutes tops! I shop for 2 weeks of groceries at a time. Never could I do that within 15 minutes!
For me, with chronic pain, this has been a true life-saver! No more panic attacks because I'm in too much pain and not sure I'll make it through the store! No more lifting heavy items into a car or back into my car. It's all done for me. I also pick up when I know others will be home to unload the vehicle.
So, next time you need to do that dreaded grocery shopping, try the online shopping. If this frugal old-fashioned girl can do it and love it, I'm sure you will too!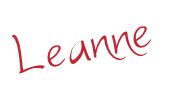 This post may contain affiliate links. All opinions are my own!
The following two tabs change content below.
Leanne is a wife of 30 year, has 3 children and 6 grandchildren. She has been blogging for over 2 1/2 years and love to meet new people. She also love to crochet, craft, and bake. Most importantly, she loves to spend time with her family.