Wow, it's been a whirlwind of a month! I hope everyone had a wonderful Holiday! Ours was a little different this year as we were all sick. When you have 12 people and 5 dogs living in a home, it's hard to keep those nasty germs from spreading. So there were 4 of us (myself and 3 grandchildren) that had pneumonia and the rest had upper respiratory or sinus infections. Even with all that we still enjoyed our Christmas together.
When you have a multi-family home you look for ways to make your home run more smoothly. Organization is the key to a functional home. I'm not talking "Magazine-Looking" organization. I'm talking about doing what you can with what you have. You don't have to spend hundreds of dollars to get organized.
After going through and cleaning to get rid of germs around the house, it was time to get some organizing done that didn't happen during our sick time. I knew I wanted to get started on posting once again, but I was having some difficulty getting started. The girls took care of getting the house in order, while I decided to start with a "fresh start" in my office/craft room.
Over the vacation the craft room became the hiding presents, "stick it in the craft room", wrapping presents room. When I walked into it my first reaction was to shut the door quickly and put an "Enter at Your Own Risk" sign on the door. I knew that if I didn't start it, it wouldn't get done. So, I slowly started cleaning out one of the closets. When you have as many as we do, you have to improvise on space. One of the rooms that is being used as a bedroom, does not have a closet. In my craft room I have two. So I'm sharing one of those closets with others.
One goal I made for myself this year is to share with y'all our home. The reason I haven't done this in the past is because I would get overwhelmed looking at the homes that are shown on other blogs. I am not a "magazine-style" person. I never have been. I want my home to be comfortable to all. I don't want my grandchildren thinking that they can't touch anything in my home. I want whoever walks through that door to feel welcome and at home. This is what has worked for us for 29 years. I'm not saying that the other homes aren't beautiful, because they are! They're amazing. But for me and my family it's not about show, it's about a functional, comfortable home.
Trust me when I say that this picture below is NOT functional! As you can see I had started putting the cubes together before I remembered to take a picture. I'm sure you get the idea of the disaster area I had!
I spent a little over $100 for organizing this room. I purchase my cube shelves at Wal-Mart, my $3 crates at Target and everything else (including the fabric cube storage) was purchased at the Dollar Store.
Here is the end project!
I am thrilled with how things look! Yes, I know that the walls need painting, the old dresser (which has dvd's in it) needs a make-over, the curtains (yuck!) need to be replaced and I would love to have wood laminate flooring. Right now it isn't going to happen. I wanted you to see this to realize that you don't have to do everything "new" in order to get organized! Oh and it's so nice to know what supplies I have and know where things are!
Just jump right in and do it! You'll be happy you did!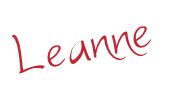 This post may contain affiliate links. All opinions are my own!
The following two tabs change content below.
Leanne is a wife of 30 year, has 3 children and 6 grandchildren. She has been blogging for over 2 1/2 years and love to meet new people. She also love to crochet, craft, and bake. Most importantly, she loves to spend time with her family.