Every year, while growing up, our family went on a big vacation. My mom was and still is the Queen of saving money. I'm going to share with you some of her Money Saving Tips for Family Vacations.
We always have teased my mom about how she always get the "good deals". Everyone knows that she will not buy something unless it's on sale or on clearance. All the kids and grandchildren know that if they have to return a gift, they will not be getting full price for it! All teasing aside, she is one smart cookie when it comes to saving money. I asked her to give me her tips on budget vacations with family.
Please Note: This post contains affiliate links. See our disclosure policy for more information.
Money Saving Tips for Family Vacations
Planning as far in advance as possible – She would do all the research. (remember no internet at that time, so trips to the library). She also would plan out our meal cost, hotel cost and gas cost. We all (5 children) were involved in saving money for our family vacations. If we wanted spending money to buy souvenirs we needed to save it ourselves. We also had a change jar. In this jar was money for our favorite place to get ice cream, Dairy Queen! I remember mom putting the money in one of my dad's socks to keep it separate from the rest of the vacation funds.
Never go in debt for a vacation! – My parents never went in debt for any vacation. She said "This is just not good practice!". No one said a family vacation has to be 1000 miles away! If you can't afford to go on a "big" vacation, find something within a 3-4 hour drive. It lets you see new places and it will still be a vacation! If you go into debt while vacationing, it is just going to add stress that is unnecessary.
You have to think cheap – There is a quick story behind this…Mom would always tell us where we would be staying that night. I remember at that time the motto for Red Roof Inn was sleep cheap. We were all hoping we didn't have to sleep cheap that night 'cause we wanted a swimming pool! But seriously, Red Roof Inn at that time was a nice hotel, that was within my parents budget. Also, for your sites to see, always look for places that are near free or free. The kids won't know the difference and they will still have a blast!
Mealtime – We always had one big meal a day. They would try to find a buffet restaurant to eat at for lunch. Lunch prices are less than a dinnertime price. If we couldn't find a buffet we would stop at a restaurant. Before we even went in, my parents would tell us how much we each could spend on our meal. If we went over it then we would have to pay the difference out of our souvenir money. Well, none of us wanted to waste our money on food!
For the other meals we would do picnic style. If it was a traveling day, my parents would leave at 5am. Us kids would go back to sleep in the car for a couple hours. They would then pull into a rest area and we would have a picnic breakfast. Mom had milk and juice that she had frozen (that was also helping to keep the rest of the food cold). It was thawed by then and we had disposable cups for our cereal and had our juice. We would then stop for lunch (our big meal) and then pull into the hotel by check-in time (which was usually 3pm). If we weren't sleeping cheap for the night there would be a pool and we would swim and have a picnic at the poolside.
She always had fruits, veggies, chips and other goodies to snack on along the way!
This Day and Age – I want to share something that wasn't available to us "back in the day" (as my kids say it). Reward points! When ever my husband travels he accumulates reward points. We have taken several trips and not have to pay for our hotels. Check to see what you use regularly and make sure to get involved in their rewards program.
Looking back and after talking with my mom about our family vacations, I never really knew that there were years where we couldn't go on a "big" vacation. I always thought that each vacation we took was a big one. Your children aren't going to remember that the vacation was "cheap", they are going to remember the laughter, the sites and the time together!
I'm going to leave this last thought from my mom. "Adjust trips to the reality of what your money is."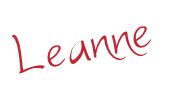 This post may contain affiliate links. All opinions are my own!
The following two tabs change content below.
Leanne is a wife of 30 year, has 3 children and 6 grandchildren. She has been blogging for over 2 1/2 years and love to meet new people. She also love to crochet, craft, and bake. Most importantly, she loves to spend time with her family.