Valentine's Day is coming up quick. I wanted to share with you our I l Love You Mantel.
I'll be honest with you, I'm not big into decorating for Valentine's Day. I feel that love should be shown all year long, not just one day out of the year. I do love when a project can be made that is inexpensive, which is what this turned out to be!
All items used here, except for the lettering and heart, were purchased after Christmas! The netting was $1.50, bows .30, all ribbon $2.00 and washi tape $1.00. So that means the mantel was done for under $10! Yet another reason for shopping after Christmas sales!
So here is what was done: the lettering is wrapped in ribbon. Used tacky glue to hold it all in place. I also used a couple pint-sized canning jars and put some washi tape on them for my votive holders. That's it! Told you it was quick and easy.
So how did you decorate for Valentine's Day this year? I would love to hear!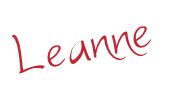 This post may contain affiliate links. All opinions are my own!
The following two tabs change content below.
Leanne is a wife of 30 year, has 3 children and 6 grandchildren. She has been blogging for over 2 1/2 years and love to meet new people. She also love to crochet, craft, and bake. Most importantly, she loves to spend time with her family.