Looking for something quick and easy to do with your kids for Halloween? This Kid-Fun Spooky Spider Cake is the answer!
This year my grandsons have really gotten into Halloween. Everything is "spooky" or "scary". They found some spiders I had gotten at the dollar store and started scaring each other with them. They are now 4 and 5. Everyday they have starting asking about if it was Halloween yet! Samantha ended up making a calendar for them to mark off.
When I was at the store, I came across these fun cake mixes.
So I grabbed them up and took 'em home!
When I told the boys that we were going to make a spooky spider cake the excitement began!
Once we made the cakes and let them cool, the fun began. We took some funfetti purple frosting for the middle of the cake.
We then made some homemade chocolate icing for the outside. We didn't want to smooth it because what spider is that smooth?
Now to make it spooky! We crushed up some Oreo cookies and spread those all over the spider. Added some sprinkles that came with the Funfetti Frosting. Then found two spooky red eyes for the spider from the Spree candy.
What is a spider without the eight legs! So we took some green apple Twizzlers. Each one got to put in four legs. There ya have it, Our Spooky Spider Cake!
This was such a fun project. The boys even got to scare their dad's when they got home from work!
Take some time to spend with your little ones. Let their imagination go wild. Playing in the kitchen is an all-time favorite of ours. One that will make lasting memories for all!
Do you make some fun things in the kitchen with your kids? If so, I'd love to hear about it!
Have a wonderful day.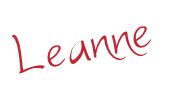 This post may contain affiliate links. All opinions are my own!
The following two tabs change content below.
Leanne is a wife of 30 year, has 3 children and 6 grandchildren. She has been blogging for over 2 1/2 years and love to meet new people. She also love to crochet, craft, and bake. Most importantly, she loves to spend time with her family.