Is it possible? Can you really pursue your passions with chronic pain? The short answer is yes!
Chronic Pain:
I use to think differently. My chronic pain consumed my life. Don't get me wrong, there are still days that is does. I'm just looking at things differently now. When things started to change for me and I vowed to Embrace the Change, it was harder than I thought!
What I'm sharing now is working for me at this time. But to be honest, with chronic illness things are ever changing. It's like a vicious circle and no matter how hard you want to, you can't get off the ride. I'm sure there are those out there that can understand where I'm coming from.
There are still many days that I'm in bed because standing and walking is just too unbearable. I'm not saying that pursuing your passions will take away your pain, because it won't! If you are like me, trying to find out how to feel accomplished while dealing with pain has been a struggle. What I'm sharing with you today are steps that have helped me at this time in my life. Each person is different and what works for one doesn't necessarily work for another. You need to find what works for you!
How to Pursue Your Passions with Chronic Pain:
If you want to pursue your passions it is possible.
Think of what you are passionate about.
Can you still do it or do you need to find something else? Example: I was passionate about all things crafts and DIY. Obviously, that is something I'm unable to do. I readjusted my thinking. What is one thing I can do that is crafty but doesn't require me to stand, bend, lift and sit in uncomfortable chairs. It was crocheting!
Do you have other passions? Can you adjust them to work for you?
Is there something that you have wanted to do but never started? Maybe now would be a good time to start!
The Great Benefits:
There are many benefits in pursing your passions! Here are a few:
You will feel better about yourself.
You are accomplishing something.
Your focus has changed from the chronic pain to your passions! (on some days)
Having several passions opens the door to working on one passion if you are unable to work on another. Example: I have 3 main passions: My family, crocheting and blogging. When I can't sit and crochet and I must stretch out in bed, I work on my laptop. My blog is becoming my "go to" when I'm laid up.
I want to make one thing clear. You will have bad days! Days where concentrating (brain fog) and pain just consumes you. Sometimes, even your passions will not be doable. It's okay! With chronic pain, you always need to take things one day at a time!
So, do you see how pursuing your passions is possible? You must think outside the box. What are you waiting for! Start thinking about your passions today.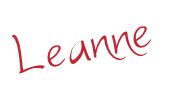 This post may contain affiliate links. All opinions are my own!
The following two tabs change content below.
Leanne is a wife of 30 year, has 3 children and 6 grandchildren. She has been blogging for over 2 1/2 years and love to meet new people. She also love to crochet, craft, and bake. Most importantly, she loves to spend time with her family.