Well hello everyone! It's time to get things caught up! We are at Hoppin' April O for Outdoor Patio and Porch Decorating Ideas! I'm sorry that I haven't been on in a week. Moving to the new house has proven to be an adventure! One that I hope will be over with soon!
I want to make sure to share with y'all the rest of the Hoppin' April Series. In order for me to do that you will be seeing several post between now and April 30!
I hope that you will enjoy what the rest of the Hoppin' April Series has for you!
Have a wonderful weekend!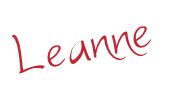 This post may contain affiliate links. All opinions are my own!
The following two tabs change content below.
Leanne is a wife of 30 year, has 3 children and 6 grandchildren. She has been blogging for over 2 1/2 years and love to meet new people. She also love to crochet, craft, and bake. Most importantly, she loves to spend time with her family.