Today we are at Hoppin' April L for Lemon. I don't know about you, but I LOVE lemon desserts! One of these days I will have to share with y'all our favorite Lemon Cake. It will have to wait until we get our move done.
Until then you will have to try some of these Luscious Lemon Desserts that we found. They all look amazing!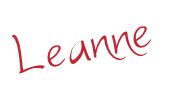 This post may contain affiliate links. All opinions are my own!
The following two tabs change content below.
Leanne is a wife of 30 year, has 3 children and 6 grandchildren. She has been blogging for over 2 1/2 years and love to meet new people. She also love to crochet, craft, and bake. Most importantly, she loves to spend time with her family.