I'm so excited about our Hoppin' April D for DIY Projects! We are in the process of buying a home and I can't wait to make some of these awesome ideas! Don't you LOVE DIY's!
This was one that I a lot of fun looking at all the wonderful ideas out there! Hope you enjoy today's Round-Up!
If you missed the post explaining what we are doing this month, you can start with Hoppin' April A-Z.
28 DIY Projects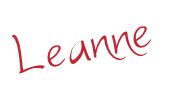 This post may contain affiliate links. All opinions are my own!
The following two tabs change content below.
Leanne is a wife of 30 year, has 3 children and 6 grandchildren. She has been blogging for over 2 1/2 years and love to meet new people. She also love to crochet, craft, and bake. Most importantly, she loves to spend time with her family.