I do not claim to be the best sewer out there. Truth be told, when sewing I look for easy! When we found out that we were going to be blessed with grandson #3 I did what everyone else does…searched Pinterest! This is a great collection of easy DIY baby shower gifts. This collection was so fun and if you can sew a straight line, you can make these.
Please Note: This post contains affiliate links. See our disclosure policy for more information.
Easy DIY Baby Shower Gifts
The Cover:
This cover I modified a little from the original pattern. I love the "rag" look, so I kept that theme through all the items. Here in Texas it gets a little warm, so we didn't need a double thickness for the cover. Once this was cut I just stitched 1/2″ all the way around and clipped it. I used a light flannel material, which you can get from Fabric.com You can find the tutorial at Calico
Wash clothes:
Wash Clothes are great to make with those scraps of left over material. I followed a wonderful tutorial by Creations by Kara.
Burp Rags:
Everyone needs burp rags! These I just traced a burp rag to use as a pattern. Then sewed wrong sides together leaving 1/2 all the way around. Then clipped them! Remember that when making "rag" type items the more you wash and dry, the more they will get the "rag" look.
Bibs:
The bibs are another quick and easy project. I used a great pattern at Sew She Sews. I just cut 2 out, put wrong sides together and did my 1/2 inch all the way around and clipped! Then sewed on the Velcro and you're done. It's that easy.
Diaper Tote:
This diaper tote with changing pad is something that Samantha uses often. It was a little bit more work then the others, but still easy straight line sewing. I used a tutorial at Cluck Cluck Sew. (This tutorial is not available any more.)
Baby Blanket:
This rag blanket was easy! I just cut the size I wanted. Pinned the wrong sides together. Sewed a big X from corner to corner and then sew 1/2 inch all the way around and clipped. You can tell by the picture that this has not been washed but one time. Remember…the more you wash the more it will fray!
Large and Small Diaper Bags:
Now that you have all these wonderful baby items, you need something to put them all in. Yes, these are a little more involved then all the others, but I have to admit, they are fun to make! I suggest if this is your first time making a rag bag diaper bag purchase some instructions like at Cherrie Blossom Quilts. You will be glad you did.
What are your favorite homemade baby gifts to give?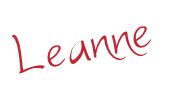 This post may contain affiliate links. All opinions are my own!
The following two tabs change content below.
Leanne is a wife of 30 year, has 3 children and 6 grandchildren. She has been blogging for over 2 1/2 years and love to meet new people. She also love to crochet, craft, and bake. Most importantly, she loves to spend time with her family.