I'm sure at one point during parenthood you have said "It's called life"! If you haven't, then it's probably because your children are too little. I'll be honest here, I wasn't always the mother who, after a child would say "it's not fair", would say in that sweet voice "I know dear, but sometimes life just isn't fair". I sometimes would say instead, "It's called life, so deal with it!". Please tell me I'm not the only one out there who has said this!
Most of you know that we have all 3 of our adult children and their families living with us right now. A couple of my kids sometimes need to be reminded of two things. One, we didn't start out our married life with what we have now and two, it's called life, so deal with it!" It was this second one that I had used about a week ago on one of our children. He was complaining about how he use to have spending money, but now that he has a new truck he doesn't have as much as he is use to in savings or spending. Really? I'm sure you know what I said next.
It was at that point I had glanced at my husband. Sometimes I wish he couldn't talk to me with just a look in his eyes! Earlier that day I was talking to him about how physical therapy, doctor's appointments and health had taken so much of my time this past month that I didn't get much done at all, while I was on my break from blogging. With his eyes, he said "Did you just hear what you said". Darn! I really do hate when he is right, even when he doesn't say anything at all!!
I guess if I'm going to dish it out, I better be able to take it also. I decided that instead of thinking of all the things that I didn't get done while on vacation, that I will think of all the good that did happen and realize that there are sometimes things that happen and are out of our control and "It's Called Life"!
Is there something that you have said while teaching your children that you realized you need to take your own advise? I sure would love to hear about it so I don't feel as though I'm the only one!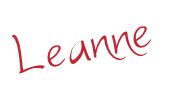 This post may contain affiliate links. All opinions are my own!
The following two tabs change content below.
Leanne is a wife of 30 year, has 3 children and 6 grandchildren. She has been blogging for over 2 1/2 years and love to meet new people. She also love to crochet, craft, and bake. Most importantly, she loves to spend time with her family.