Trying to find the best way to organize recipes can be daunting. Over the years, I have tried many different methods and I now can say that I have put together the Best DIY Recipe Book Gift! Well, at least in my opinion. 😊
Everyone's best looks different. This is something that just kind of happened. I was tired of looking in each of our family cookbooks trying to find a certain recipe. I decided it was time to combine them. I did this probably 8 years ago and it is still the book I use the most! Yes, I'm still very "old-school" when it comes to recipes.
When starting this project, it was going to be just for me. Then as I was scanning, I realized that it would make a great gift for others in our family. I scanned all our family recipes into Microsoft Word. I now have two master copies. One that has just the family recipes that I use as gifts and one that is mine and has all the recipes that we love and use. Once you have your master copies, this gift is one that is easily put together and has been loved by everyone that has received it.
Please Note: This post contains affiliate links. See our disclosure policy for more information.
Supplies Need:
Multiple Colors of Paper (I used 6 different colors)
Full-page Sheet Protectors (I used non-glare to make it easier to read the recipe)
2-Ring binder  (I used a 2" so I could continue to add recipes)
Printer
Scanner
Software – I used Microsoft Word. Use what you know so you don't get frustrated when putting it together.
Note before you start:
The first time you set this up is going to be time-consuming. You will need to make sure to proof read everything you scan. Make sure your measurements scanned right. You don't want it to say a cup and you only need a teaspoon! Once you have your master copy, duplicating this gift is going to be easy!
One more Extremely Important Note:
You only want to scan recipes that are of you and your family. Do NOT scan copy-written material and then give it to someone else. You can put it in your own personal recipe book, but not in one that you give.
Best DIY Recipe Book Gift
Have a separate file for each categories.
Here are the categories that I used:
*Appetizers & Beverages
*Breads & Rolls
*Soups & Salads
*Vegetables & Side Dishes
*Main Dishes
*Desserts & Goodies
*Miscellaneous
Scan your recipes into the categories they belong.
Proof read each recipe to make sure it scanned right and measurements are right.
If you have any personal recipes on your computer, copy and paste those into your master file.
Once you have each category done, it's time to print! Before you do, assign each category a color. Such as: Breads & Rolls – Yellow, Vegetables & Side Dishes – Green, etc. Those are the colored pages that you will print these out on. Make sure when printing, you do front and back print.
Take those printed pages and put them in the sheet protectors and then into the binder!
Once done, add extra colored paper and sheet protectors to each category. This way they can add their own recipes to it.
Why the Different Color of Categories?
At first I thought why not just do them all white. It's less expensive and I wouldn't have to worry about each category being a different color. Let me tell you, I'm so glad I went with the colors. Once you know what color that category is, you can just flip to it when you are looking for a certain recipe. I made my mom one and that is her favorite feature!
This is so much more than a basic diy recipe book gift!
I'm sure by now you are asking yourself, "why is this the best diy recipe book gift ever!" Well, here it is…. there is so much more to this than just the first copy! Once the book is done, whoever receives it can add more recipes to it. If they have books that they have purchased, but only use a few recipes from it they can print them out on the colored pages and add it to their book! If they find something online that they love and will make it regularly, they can do the same! If they have a recipe card that they want to add, they can either type it up and print it, or just tape it to a colored page and insert it into their book. See the possibilities are endless. What happens once they get it? They can make it theirs.
I have made countless books over the years and each person that has received one has loved it and uses it regularly. It's so much fun when you realize that your DIY gift has been loved and used!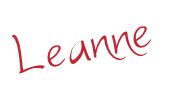 This post may contain affiliate links. All opinions are my own!
The following two tabs change content below.
Leanne is a wife of 30 year, has 3 children and 6 grandchildren. She has been blogging for over 2 1/2 years and love to meet new people. She also love to crochet, craft, and bake. Most importantly, she loves to spend time with her family.