This past weekend we celebrated Jayme's birthday. In honor of the special day, we would like to share with you some Mint and Coral Kitchen Decor.
Jayme is in the process of decorating her kitchen with this theme. We had her in mind as we tried to find the perfect kitchen decor. I just love the colors she chose! They definitely match her personality.
The kitchen is our favorite place as a family. We spend lots of time together in this special room of our home. We have created some great food, lots of laughter, and just plain fun. It's also the reason we have "Kitchen" in Texas Crafty Kitchen!
We hope you find some ideas for your kitchen. Most of these items come in different colors. We just are showing the mint and coral for Jayme's special day.
Please Note: This post contains affiliate links. See our disclosure policy for more information.
Beautiful Mint and Coral Kitchen Decor
Everyday Mixer – @TJ Maxx – This everyday mixer comes in Mint or Black. It would look great on any counter! It's portable and the bowl size is 2.5 qts.
Coral Round Place Mat – @Target – The beautiful round place mat would make a great touch to your dinner setting.
Mint Digital Food Scale – @Bed Bath and Beyond – Modern design equipped to accurately weigh both wet and dry ingredients in ounces, pounds, fluid ounces, grams, kilograms and milliliters. It comes in 9 other colors!
Clay Art Coral Arrow Mug – @Target – A great accent to your kitchen. Microwave and Dishwasher safe.
Mint and Coral Mug Set of 4 – @Target – A great addition to you dinner setting. Microwave and Dishwasher safe.
Mint Kitchen Storage Canister – @Amara – Store your dry goods in retro style with this storage canister from Wesco. Made from steel with a practical window allowing you to see what's inside.
Beach Stripe Kitchen Towel with Fringe – @Sur La Table – Great for cleaning up those spills. I love the fringe on these towels!
Mint Bread Bin – @Amara – This is a smaller box and is great for storing many different kitchen items and food.
Coral Striped Kitchen Towel – @Sur La Table – A set of 3 kitchen towels to add that coral accent. It is also available in 4 other colors.
Mint Slim Hand Blender – @Target – Comes in 5 other colors!
More Mint and Coral Kitchen Decor You Might Enjoy!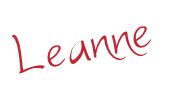 This post may contain affiliate links. All opinions are my own!
The following two tabs change content below.
Leanne is a wife of 30 year, has 3 children and 6 grandchildren. She has been blogging for over 2 1/2 years and love to meet new people. She also love to crochet, craft, and bake. Most importantly, she loves to spend time with her family.