We are coming to the close of our A-Z Roundup! Friday will be our last one. Today our A-Z Roundup Yoga Tips is all about the basics of Yoga!
I have mentioned before that I use Yoga Meditation for my Chronic Pain. There are many benefits for Yoga. Check out these great Yoga Instructions!
A-Z Roundup Yoga
Top 9 Yoga Poses to Deal with Anxiety – Bembu
14 Minute Basic Yoga Workout – Sparkpeople
14 Most Useful Beginner Yoga with its Benefits – Remediez
Top 10 YouTube Yoga Videos for Beginners – YogaTime
8 Tips for Doing Yoga When you are Plus-Sized – Saved By Grace
5 Yoga Moves to Practice Daily – Skinny Mom
10 Best Yoga Apps for IPhone and Android to Practice Yoga – StyleCraze
Bedtime Yoga: Stretch Your Way to Better Sleep – Beautifully Simple
Meditating "Didn't Work" for Me Until I Tried This – Byrdie
20 Yoga Moves for Inflexible Moms – Skinny Mom
5 Simple Split Stretches for Beginners – StyleCraze
Yoga for Every Size – Love This Pic
20 Minute Beginner Yoga Workout for Flexibility – Avocadu
75 Yoga Poses – Get Healthy U
20 Minute Yoga Workout for Complete Beginners – Meraki Lane
The 5-Minute Yoga Sequence for Better Sleep – Rodale Wellness
Quick Morning Yoga – Love This Pic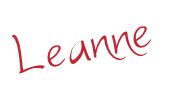 This post may contain affiliate links. All opinions are my own!
The following two tabs change content below.
Leanne is a wife of 30 year, has 3 children and 6 grandchildren. She has been blogging for over 2 1/2 years and love to meet new people. She also love to crochet, craft, and bake. Most importantly, she loves to spend time with her family.