Don't you love creating something useful? Today's A-Z Roundup Useful Crafts, Tips, and Ideas will do just that! The sense of accomplishment it brings!
I love creating something that can be useful! A couple of years ago, I put together a creativity center for my grandchildren.They loved it! Now every Christmas, one of their gifts are supplies for their container.
We are starting to gather information on ideas that can be used when we redecorate my office/craft room. We have a tight budget set aside for it so most things done will be DIY!
One good thing about working on a blog with family is that we all have our talents. We have a whiz at the Silhouette machine, a seamstress and an artist that can draw anything free hand….Lucky me!!
I hope you can find something today that will be useful in your home.
A-Z Roundup Useful Crafts, Tips, and Ideas
20 of the Most Useful Craft Hacks – Modpodge Rocks
50 Crafts and Projects Using Recycled, Repurposed & Upcycled Cans – by Stephanie Lynn
100 Creative Ways to Use Washi Tape – DIY Ready
25 More Things to do with Fabric Scraps – Crazy Little Projects
50 Clever Wine Cork Crafts You'll Fall in Love with – DIY Joy
DIY Washi Tape Cereal Box Organizers – One Good Thing by Jillee
Unbelievable Cool Things You Can Make with a Glue Gun – DIY Joy
14 Things You Didn't Know You Could Decoupage – The Snug
15 Sewing Room DIY Organization – DIY Ready
DIY Hook Rack Using Cabinet Knobs – The Home Depot Blog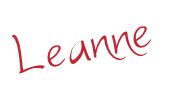 This post may contain affiliate links. All opinions are my own!
The following two tabs change content below.
Leanne is a wife of 30 year, has 3 children and 6 grandchildren. She has been blogging for over 2 1/2 years and love to meet new people. She also love to crochet, craft, and bake. Most importantly, she loves to spend time with her family.