We are all about saving money. Really, who isn't these days? But can you really be a frugal shopper online?
The answer is yes! There are countless ways of getting great deals online. We are going to share our favorites with you. We hope to help you get some great savings.
Please Note: This post contains affiliate links. See our disclosure policy for more information.
How to be a Frugal Shopper Online
This is one of my favorites. If you install their toolbar button, Ebates will pop up whenever you are on a site that they offer deals. It's so easy to use. One of my favorites is they offer ebates on Etsy! If you follow the blog then you know my love for Etsy. You also get cash when you refer a friend. I couldn't believe how quick the savings added up!
There are numerous ways to save money and make money on Swagbucks! They have Swagbucks Points. When making purchases through them, you will accumulate Swagbucks Points. They can be used many ways, but my favorite is Amazon Gift Cards! You can even accumulate points with purchases on Amazon! They also have an area where you can take surveys to receive more Swagbucks Points.
Speaking of Amazon, you know I had to include them. My #1 place to shop! I know that there are those out there that can't stand them, but I'm not one of them! I have been a Amazon Prime Member for years. Just free 2-day shipping alone is worth it. There are sites that will do "comparison" shopping with Amazon. If you decide to use them, make sure that their shipping isn't outrageous. Also, check to see how long it will take to get it! I love all the benefits Amazon has to offer. Such as: All the prime benefits, their gift registry (wedding, Baby and birthday), gift guides, reviews to products, and so much more!
**NOTE** The BeFrugal link is working! I have no idea why it's coming up as a broken link. I've checked them all and they are fine. I will try to get this fixed as soon as I figure out why! 🙂
This is one that I have started recently. It is very similar to Ebates. BeFrugal also has a refer-a-friend incentive to where you can earn money. It has an extremely hand toolbar button like Ebates. I do find that Ebates it a little easier to use. With Ebates you just have to click the activate button and with BeFrugal you need to choose which coupon you want to use. One thing I found with both, that I love, is they both work on Snapfish! If you haven't seen what I made on Snapfish, I show it in a Mother's Day post.
This is another new one (for me) that I'm trying out. It's very similar to all the others. Such as: a refer-a-friend, Amazon, and travel. Payment are made via bank account, PayPal, Amazon Gift Card and American Express Rewards Cards. I wish I could tell you more about this site, but I haven't used it enough to make an honest review.
What?? Pinterest has become a major shopping site. You can find many great things at a good price. Try it out!
If you are an avid Wal-Mart shopper, you can always find great deals on their site. They also have the pickup in store! I also love the pickup groceries! I don't have to leave the car and I don't over-spend by walking through the store!
Annual Sales
Pay attention to your favorite stores annual sales. Remember when they have them and make sure to shop then. I know that Samantha loves it when Old Navy has their flip-flops on sale. They just had that sale, so she stocked up for the summer. Many stores have annual sales. Start making your list, or even better, add them to your calendar so you don't forget!
Banking
Most banks/credit unions now have rewards programs. Join in on those and the savings will really add up quick!
This site is different! It will tell you what is clearance at certain stores (Wal-Mart, Target, Lowes and Office Depot). They are not affiliated with the stores and the stores do NOT honor the prices shown. It is a way of seeing what is on sale or on clearance. Most of these will NOT be available online (sales items probably will). You can see some very deep discounted items and possibly get some outrageous deals. I have used it and gotten several items deeply discounted. I didn't add this to the main list, do to the fact that most of the time I must go to the store to purchase. Because of the discounts, I really wanted to share this site with you.
As I have been shopping online more and more, I have found numerous ways to save money. Are there certain sites you love to use that save money?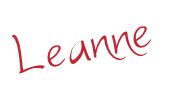 This post may contain affiliate links. All opinions are my own!
The following two tabs change content below.
Leanne is a wife of 30 year, has 3 children and 6 grandchildren. She has been blogging for over 2 1/2 years and love to meet new people. She also love to crochet, craft, and bake. Most importantly, she loves to spend time with her family.