DIY is everywhere! Back in the day, some 30+ years it wasn't as easy as getting on Pinterest or YouTube to search for ideas and how to's. With the resources we have now DIY gifts are doable, even for the non-crafty person.
I have always loved making gifts and receiving homemade gifts. I knew the person giving the gift took time (which is precious) to make it and with me in mind.
Sometimes when making those precious gifts it can get a little overwhelming. You might even ask yourself "What am I doing!" My hope is that these 7 tips will help you through that, so you might enjoy your project.
Please Note: This post contains affiliate links. See our disclosure policy for more information.
7 Tips for Creating DIY Gifts
Bigger is not always better!

Coming from someone in Texas where everything is BIGGER it's a strange statement to make, but I promise it's true! You do not have to spend days and months on something for it to be special.

Think of your skills.

Obvious, but important. You don't want to start something and then realize half way through that it's not something you can do or you need to work on that skill more. Now don't get me wrong, I'm a firm believer in learning new things! What I want you to realize is that those new things we learn, some of them take practice and it probably won't turn out the way you want it to the first time. Example: Someone who has never sewn anything before might not start out giving these baby gifts until they know how to sew a straight line and have made a couple. But…. if you are a non-crafty person, you could easily make a diaper cake.
Think about DIY gifts early!

Make sure you have plenty of time to complete your project. Nothing is worse than trying to finish a project the day before or even the day of! Also, if you know what you are going to do ahead of time, you might be able to find your supplies on sale!

Use Resources!


Use the wonderful resources available to search ideas and to learn new skills.

Put your own "twist" to your gifts.

In other words, personalize it. You can see how I did this in the creativity centers that I made for my grandchildren. I made one per family and each one had their names added to it in decorating the containers. Even if you can't draw (like me, my daughter-in-law did mine) you could easily do sticker letters. Then embellish it more for decorating. See how those little steps could change the look of the project!

K.I.S.S!

Keep It Simple Silly! (I don't like the word stupid) If it's simple, you will be more likely to continue making DIY gifts. It doesn't need to be hard or involved for others to love it.

Just remember to have fun!

I have my regular DIY gifts I give and I also love to create new things. Mix things up, we all have a little creativity in us, so use it. The more you do, the more your creativity will grow.
Do you have a favorite "go-to" DIY gift you give? I do! They are simple mini-loaves of my apple cake. I make them up every year for my hubs co-workers. They look forward to them each year, knowing that they don't have to share! I'd love to hear what you do.
More Post You Will Love
Amazing DIY Mother's Day Gifts to Turn Into Traditions (Not just for Mother's Day!)
Best DIY Recipe Book Gift Ever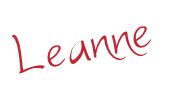 This post may contain affiliate links. All opinions are my own!
The following two tabs change content below.
Leanne is a wife of 30 year, has 3 children and 6 grandchildren. She has been blogging for over 2 1/2 years and love to meet new people. She also love to crochet, craft, and bake. Most importantly, she loves to spend time with her family.