Have you ever felt like you have totally lost control of your health? You say to yourself "If one more thing happens…!!" If you have, know that you are not alone! I tried these 6 Steps to Get Control of Your Health.
I was there just a couple weeks ago. I didn't think I could handle on more thing! For the past few years I have been in pain 24/7. I had a lower back surgery to try to "fix" the problem. Six months later a neck surgery. Yes, I have chronic back problems. To the point that I'm losing the use of my right leg. The more I walk the worse the pain. There was no "pushing through the pain", believe me, I tried!
During this time I was diagnosed with hypertension. Well, duh! I'm in pain, my blood pressure is going to be high! Very long story short, I had had it! Then two weeks ago happened and I lost it! I was diagnosed with Type 2 Diabetes. I had two days of emotions. The pity party for myself.
I then started thinking about how there are so many others out there way worse than myself. It was then that I had a realization that I can control this! I then thought about the hypertension. I have control over it as well!
This whole time I was thinking that I was just going to slowly fall completely apart. I felt that I had no control. Ok, over the back and leg? No, I don't have control, but everything else I do! So what did I do? I started making changes.
6 Steps to Get Control of Your Health
Ask yourself what is the first thing you want to work on? You might have several issues going on. Pick one thing to really focus on. I decided I was going to work on my diabetes first, since it had the most symptoms.
Is this something that with just a little work will get me off of medication? I asked myself "What do I need to do to get off the diabetes meds?" and made a list of what I could do.
Research! I spent some time researching about diabetes. What I could eat, what to avoid, which essential oils would help (I love my essential oils. They are a life saver!), etc.
What steps can I take? Since diabetes is diet and exercise related I wrote out a menu that I could follow, including snacks! As for exercise….it was a little difficult with my back issue. So I decided that I would start VERY small. I took some super small dumbbells and worked my upper body. Mainly my arms. It's not much, but it sure made me feel better!
How do you plan to handle those not so easy times? You WILL have those hard times! Have a plan. I knew that if I stayed with my steps, that those not so easy times would be a little easier. I got some sugar-free peppermints, Special K popcorn chips and pistachios! Great treats that won't hurt my diet!
Do It! Once you have your plan. DO IT! Just start. Don't wait until a Monday (which seems to be what people do) start right away.
By following these six steps, within two weeks I have my blood sugar under control. My blood pressure hasn't been this good in years! Yes, I'm still in pain, but by working on my diabetes, it snowballed into helping my hypertension. As an added bonus….I have lost 10 pounds!
If you are feeling overwhelmed by your health, try these 6 steps. I'm not saying it's easy. I am saying it is totally worth it!
What are some of the things you do to help keep yourself healthy?
Below are some of the items that I use(d) to help me complete these six steps (some of these are affiliate links. See my disclosure):
I purchased these glass water bottles to help me keep up on my water intake. The reason for a glass bottle is so that I could put lemon essential oil in my water for flavoring. You don't want to use anything but glass or stainless steel!
I absolutely love these popcorn chips! They are great when you have the munchies!
This is awesome! I love making smoothies and getting all the nutrition that I need.
I have been a soda drinker for years! Adding water to my diet is one of the hardest things I had to do, but adding Lemon Essential Oil from Young Living really makes drinking water much easier! (If you have any questions about Young Living you can contact me at leanne (at) texascraftykitchen (dot) com)
I added one ounce of Young Living's NingXia Red to my smoothie each day. (If you have any questions about Young Living you can contact me at leanne (at) texascraftykitchen (dot) com)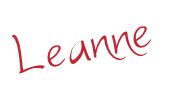 This post may contain affiliate links. All opinions are my own!
The following two tabs change content below.
Leanne is a wife of 30 year, has 3 children and 6 grandchildren. She has been blogging for over 2 1/2 years and love to meet new people. She also love to crochet, craft, and bake. Most importantly, she loves to spend time with her family.