Are you one that has chronic pain? I have chronic back pain. After two surgeries and a years worth of injections nothing has helped. If you are in chronic pain, then you know how it can effect your quality of life. Today I'm going to share with you my 5 Tips for Chronic Pain.
**Below are resources that may contain affiliate links. Please read our Disclosure Policy
5 Tips for Chronic Pain
These are things that I have found works best for me. My hope is that they will help someone out there that suffers with chronic pain.
Find something you love to do or want to learn to do and do it! I love crocheting. It saves me every day from getting stressed out over the pain. It has also been said to be a great therapy as in this Top 10 Reasons Crochet Can Help You Heal. Keeping your mind busy and on other tasks can help with chronic pain. It will also help with the anxiety/depression that is usually associated with chronic pain patients.
Meditation – I know, when I first heard this I was "you've got to be kidding me!" But it works! Learn about it, give it an honest try. It won't make you pain free, but it does help get a handle on it when you feel like it's out of control.
Depending on your situation Yoga might be of some great relief for you. I am unable to do it, but I've heard it can do wonders! Make sure to talk to your Doctor before doing it. Good thing I did, he said would make matters worse. That's when he suggested the meditation part of yoga.
Essential Oils – I have been a long-time essential oil user. I used it long before it was popular and when it was hard to find. I now use Young Living oils, which I have found are the best out there. I'm not going to go all the way into essential oils, it would be a book! I will say that even if you just diffuse either Peace and Calming or an equal blend of Lavender & Geranium it will help greatly with your mood.
Allow yourself to have those bad days. I use to get upset with myself when I mentally didn't have the strength to fight the pain. Once I realized that it's okay to have those "really bad" days it took some weight off my shoulders. I don't feel like a failure like I use to. Just don't let those bad days take control over you permanently. You may not have control over whatever is going on in your life, but you do have control over how to handle it.
Helpful Resources
I have not personally read this book. I did research online for my meditation. I thought for those that would rather read, this is a suggestion. This book received good reviews.
I do have this book. It is loaded with great information. I have been crocheting since I was 8 years old, but still use this as a reference.
I have recently found that the Adult Coloring Books are another great way to help relax while trying to fight pain! I'm loving coloring these!
These are my most favorite brand of crochet hooks! The Clover brand is comfortable and the hook glides through the yarn smoothly!
Conclusion
I hope that these 5 tips help in some way. Take the ideas and make them yours. Do you suffer from chronic pain? If so, how do you handle getting through the pain?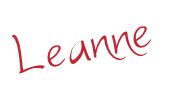 This post may contain affiliate links. All opinions are my own!
The following two tabs change content below.
Leanne is a wife of 30 year, has 3 children and 6 grandchildren. She has been blogging for over 2 1/2 years and love to meet new people. She also love to crochet, craft, and bake. Most importantly, she loves to spend time with her family.