This is the time of year that most think about new goals for the New Year. We get all excited for that "fresh start". What most fail to do is to build a Foundation for achieving those goals!
We all know that life is full of ups and downs. As you try to achieve your goals, some events might happen that stops you in your tracks! Has this happened to you? It has to me! You might even think "What's the point!". The trick is to push through, to pick yourself up, brush yourself off and start again!
As I reflect on this pat year, I realized that there are areas I did great on and some that I … well let's be honest….I bombed out! So this year I'm going to try a different approach. I thought it might be fun to bring y'all along with me!
Building your foundation is the most important part of setting your goals. I still have to remind my children that my husband and I did not start out with what we have now. It's great to dream, but in order to achieve those dreams you have to set goals and it all starts with your foundation!
The great thing about goals is they can be set at anytime. You don't have to wait for the New Year. Heck, you don't even have to wait for a Monday! You can start today!
So let's get started!!
Step 1
My Past Accomplishments – Think about where you were last year, 5 years ago, maybe even 10 years ago! What have been your accomplishments? Were you able to accomplish those things overnight? Of course not! You probably didn't even accomplish them without "bumps in the road"! I know most say "forget about the past and move on"! I agree to a point. The only time I'm asking you to look to the past is in this first step. You need to see that it is possible to achieve great things!
Step 2
My Life – What areas do you want to focus on? Some areas might be: Personal, Family, Relationship (spouse), Spiritual, Professional, Financial. Write those down!
Step 3
The Big Picture – Take some time to think about where you want to be in 1, 5 and 10 years in each area! If you chose areas in your Family or Relationship, you might want to include those who would be involved. Get their input!
Step 4
Monthly Achievements – Take time to break each area down into monthly achievements you would like to complete, to reach your yearly goal. If you keep looking at that big goal, it's going to seem impossible to achieve! You need to focus on the "baby steps"!
Step 5
My Reflection – Now take time to reflect on all that you have written down. Let is all soak in. Not just for a few minutes, take a few days! As ideas come to you on how to achieve these wonderful goals, write them down! If you come across some encouraging quotes, write those down! They might just be helpful as you work to achieve your goals!
I believe that with a firm foundation for your goals you will be able to achieve them! Now don't start thinking "Darn it! I haven't even started my goals"! The thing is, you have! You are building that foundation to be able to achieve them. When you go on a trip you don't just grab your stuff and go, you plan! That is what we are doing. We want our "trip" to go as smoothly as possible!
Remember, if you don't have a good foundation for your goals you are setting yourself up for failure!
I made up some printables for y'all to help as you are building your foundation. There are 2 different sizes, a full-page and a half-page print out.
Make sure to come back next week as we discuss our monthly and weekly goals!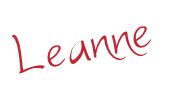 This post may contain affiliate links. All opinions are my own!
The following two tabs change content below.
Leanne is a wife of 30 year, has 3 children and 6 grandchildren. She has been blogging for over 2 1/2 years and love to meet new people. She also love to crochet, craft, and bake. Most importantly, she loves to spend time with her family.