It's Friday Pinsational Find time once again! This week we are sharing 20 Guilt-Free Desserts. If you are one that is watching what you eat, I'm sure these recipes will help with a sweet tooth moment. One recipe that we have tried on this list is the Pineapple Bliss Cupcakes from Skinnytaste.com. Our hole family love them!
Do you have a "go to" recipe to help with your sweet tooth, while watching your calorie intake?
Have a wonderful weekend!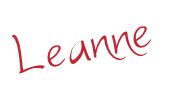 This post may contain affiliate links. All opinions are my own!
The following two tabs change content below.
Leanne is a wife of 30 year, has 3 children and 6 grandchildren. She has been blogging for over 2 1/2 years and love to meet new people. She also love to crochet, craft, and bake. Most importantly, she loves to spend time with her family.