It's that time of week once again when I share with you a collection for our Friday Pinsational Finds. 20 Gift Wrapping Ideas is what's up this week….I bet you can't guess what I'm doing this weekend.
I can officially say I'm done with my shopping (including grocery shopping) for Christmas. Well almost, the fresh veggies wouldn't be so fresh if I buy them now. Since the shopping is done, on with the wrapping!
This will be the last Friday Pinsational Find until the New Year. I hope you enjoy these ideas from some great blogs!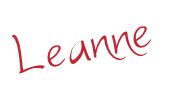 This post may contain affiliate links. All opinions are my own!
The following two tabs change content below.
Leanne is a wife of 30 year, has 3 children and 6 grandchildren. She has been blogging for over 2 1/2 years and love to meet new people. She also love to crochet, craft, and bake. Most importantly, she loves to spend time with her family.