Spring is one of my favorite times of the year. The new flowers that bloom, planting of gardens, spring cleaning, and sometimes we just want something "fresh" in our homes. After the craziness of the holidays and pushing through those first three months of the year, Spring is a refreshing time!
We are adding something new to Texas Crafty Kitchen this year. Do you love to find wonderful things online? I know we do. Since this is something that is done a lot we thought it would be fun to share with you what we find.
With the start of Spring, why not freshen up your home a little. With lanterns you have so many ways to decorate them with each season! Something that can change throughout the year but still bring "light" in your home.
Please Note: This post contains affiliate links. See our disclosure policy for more information.
20 Beautiful Lanterns that will Light Up Your Home
Add a soft, warm glow to your rustic decor with Kate Aspens Vintage Blue Lantern, available in a weathered blue tone with distressed finish. Charming metal lantern with removable lid for easy access to tea light. Measures 2.5 x 2.5 x 4.5 without handle, 2.5 x 2.5 x 6.5 with handle
The classic metal lantern. We changed our classic Old Lantern and added an LED light that allows the battery to last much longer with an on/off switch. The lantern is black and silver with a rustic finish. Sturdy, lightweight metal frame and glass globe. Truly a year-round decor piece, the Old Lantern is great as a theater prop and for Christmas Caroling. The lantern stands 11″ tall (13.5″ hanging) and runs on 3 AA batteries.
Rustic Brown Vintage Style Miniature Mason Jar Night Light with Candle-Lite Lamp adds to the charm of your farmhouse decor. Includes the night light appliance with a genuine 3 watt Candle-Lite silicone dipped light bulb inside an adorable miniature Mason's Patent Nov 30th 1858 fruit jar with a mini vented lid. The jar is inspired by antique Mason jars from the 1800s, and is hand blown from 100% recycled glass, which give it a pleasant very light green tint. 5″ tall 1 3/4″ wide and 1 3/4″ deep The durable rustic brown lacquered vented lid and jar base is designed for years of enjoyment, and the finish complements any decor from Country and Early American to modern!
Muskoka Lifestyle Products Lantern Wall Sconce has our black finish with the look of an original oil lantern to provide that authentic touch to your space. This item is UL listed as an indoor, wall mounted fixture only. The rustic oil lantern sconces requires hard wiring into an electric source and does not have an independent on/off switch. Includes Mounting Hook and Hardware 25-watt Candle Lights 10 Inch Weight: 3 lbs., 25-Watt Candle Light
Let memories of your perfect day light the way. These perfectly charming and practical mini-lanterns are the ideal favor table décor. Each aluminum lantern stands 5-inch high with a removable lid that makes lighting the replaceable tea light easy. Choose from glossy white or brushed silver. These perfectly charming and practical mini-lanterns are the ideal favor. They add mystery and height to your table décor.
Fascinating Moroccan style glass and metal candle lantern. Sunset orange adds lovely color. A dramatic display of light and shadow that enhances any living space. Weight 0.8-pound. Candle not included. Iron and glass. 4-1/2-inch by 3 3/4-inch by 10-1/4-inch high. Perfect decoration for any indoor or outdoor setting. Excellent decor item for festivities, parties and weddings.
Inspired by the haunting beauty of traditional Moroccan metalwork lamps, this free-standing miniature version casts an ever-changing dance of light and shadow wherever it is placed. Adds an enticing dash of Far East mystery to any tabletop or shelf. Metal and glass. 5-1/2-inch diameter by 13-inch high. Candle not included.
Create a terrarium, pillar candle, or garden figurine display with this hanging or tabletop lantern. The light wood frame, clear glass panes, and metal top of the lantern adds a country rustic charm to weddings, special events, or everyday décor. Measures 14″ tall x 6″ long x 6″ wide.
Royal purple shows its romantic side as it banishes the darkness with its gorgeous amethyst glow. Rich stained glass panels are elegantly offset by ornate cut work and an antique pewter finish. Weight 1.3-pound. Iron and glass. Candle not included. 5 3/4-inch by 5 3/4-inch by 11-1/2-inch high. Fabulous decor item for both indoors and outdoors.
Four purple-toned panes of patterned glass cast a fascinating halo of rainbow light. A candle's glow becomes magical as it shines from within. Handsomely styled cutout metalwork recalls the beautiful hand-wrought lamps of a Moroccan marketplace. Metal and glass. Candle not included. 4-inch by 4-inch by 10-inch high.
A graceful marriage of beauty & practicality adds a gorgeous touch anywhere – 14″ tall vintage candle lantern in distressed metalic bronze coating creates an aura of old world charm – A big LED bisque pillar candle has the look of a real wax candle with wavy edge and soft glow flicker, captivating and safe. prop for tables, bars, patios, porches; fabulous indoor and outdoor decor looks fantastic day and night.
With the SET-AND-FORGET timer functioned, the candle can be left on and will stay on for 4/8 hours and then remains off for 20/16 hours, only to automatically light up your home again for 4/8 hours – An on/off switch at the bottom of the lantern for manual control as needed – When the timer is not in use, just turn ON or OFF the lantern as a regular light. Operated by 3 AAA BATTERIES (INCLUDED) – Provides immediate, significant energy savings while enhancing your home atmosphere – BPA free, Smoke-Free, Flameless – Let you enjoy the ambiance of candlelight safely without the actual danger of an open flame.
Our hanging glass metal lantern is made from clear and durable glass with stainless steel loop tightly fixed on the top of the lantern with a sturdy jute rope handle. Easy to carry. It can hold pillar candle and LED candle perfectly. The size is moderate with a dimension of 5.7"L X 5.7"W X 10"H. It looks vintage and imagine us the beach and sunshine. A timeless and stunning addition to any decor! LED candle and a bag of white stones for an instant decoration are included in the set. It also comes with a sturdy jute rope handle you can use to hang it from hooks or stanchions in your garden. With a little bit of creativity, you can come up with all sorts of lantern ideas to add that perfect touch.
A beckoning beacon of light from sea to shining sea! Whether you want captivating table decor or a picturesque, beach-themed favor, "Beaming" Lighthouse Tea Light Holder has enough candlepower for a heartwarming glow. Features and facts: Cream-hued, sturdy metal in a lighthouse design with handle and a place at the base for a tea candle . Details include windows and railing around lantern room at the top. Tea light candle include (1 hour burn time). Lighthouse measures 4-1/2-inch h by 2-3/4-inch in diameter.
Set of two 20″ and 15″ updated traditional distressed bronze finish iron and glass square candle lanterns with scroll work caging, punched metal bowed tops and cupolas, ring holders, platform bases.
This ornate, uniquely designed hanging candle lantern is a beautiful piece for your home decor accent lighting, path or patio lighting, and much more. A small lantern hangs from the iron base and stand and fits one tea light candle (not included). Ventilation holes at the top of the lantern ensure air flow for the candle to burn, and the side glass keeps wind and insects out from the inside. Consider buying 2 or 3 to place around your house or outdoor patio! The hanging lantern measures 7″ high and 5 x 5″ at the widest point. The stand is about 14.5″ high overall.
This set of 2 rose gold lanterns provide a peaceful glow to your home's decor. Each lantern includes a copper wire strand that illuminates with a warm glow and includes a 5-hour timer, great for conserving energy when lanterns aren't in use. Whether decorating for a gathering or adding extra ambiance to an outdoor table top or indoor living space, these lanterns are perfect for year round lighting. Dimensions: 4″D x 9″ H. Batteries: Requires 3 AAA Batteries per lantern (Batteries Included). Water Resistant: These lanterns are weather resistant and could be used for both indoor and outdoor application. The LED technology allows these lanterns to remain cool to touch even after hours of use. Child and Animal Safe.
Deep red pressed-glass panels and lacy cutouts transform candlelight into a mesmerizing dance, lavishing the night with a mystical glow. A glorious mix of color and light. Weight 0.8-pound. Metal and glass. Candle not included. 4-1/2-Inch by 3 3/4-inch by 10-1/4-inch high. Fabulous decor item for both indoors and outdoors.
Moroccan-style lanterns have a rich, exotic history and their design sense is a conglomeration of many cultures: African, Middle Eastern, and European. They have a rustic feel, and yet they add a sense of other worldliness. Their colorful stained glass and lamp shades bounce light in unique patterns around any space. Today, they are a popular choice among designers due to their style, economical price, and overall craftsmanship. Really each Moroccan-style lantern is a unique work of art, so adding some into your home design can add something special to your decor. Medium size lantern with large 6″ high glass panels with large door opening. Uses tea-light, votive or small pillar candles up to 3″ x 3″. 4 3/8″ x 3 5/8″ x 10 1/2″ tall, 11 1/2″ tall with loop. Suitable for hanging or use as a freestanding lamp. Great for weddings, parties, patio, events for indoors/outdoors and more.
Stonebriar lanterns are the perfect way to add a comforting, inviting touch to your home. Our collection features artisan style craftsmanship, rich finishes, and bold colors. It will instantly add interest to any room. Our rustic wooden lantern is made with beautifully distressed and stained wood, clear glass, and a sturdy metal top, so you can enjoy your lantern indoors or outdoors. Lantern ring makes it easy to carry lantern from one place to the next. You can also easily hang lantern on a wall sconce hook or outdoors on a shepherd's hook. Your rustic wooden lantern is the perfect size for a centerpiece at parties, weddings, and birthdays. The possibilities are endless. You will have an instant classic with your Stonebriar Rustic Wooden Lantern. Lantern measures 5.4"x 5.4" x 11.8" and is perfect for a centerpiece, mantle decoration, or any tabletop. Easily fit a 2.5" x 4" pillar candle.
Hosley's 12″H White Iron Lantern for Pillar Holders. Ideal for weddings, parties, special events, spa and aromatherapy. They are just the right gift for wedding and can be used for a party, reiki, spa with either a votive or tealight candle. Inside it can be placed on tables, dressers and entrances to your home or office. Outside can be used as a lantern and hung on Shepard hook or other suitable hangers for an excellent outside lighting accent. Brings an enchanting glow into the surroundings. Each one measures: 5.5″ x 5.5″ x 12″ and is glass and metal.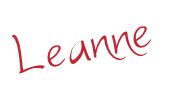 This post may contain affiliate links. All opinions are my own!
The following two tabs change content below.
Leanne is a wife of 30 year, has 3 children and 6 grandchildren. She has been blogging for over 2 1/2 years and love to meet new people. She also love to crochet, craft, and bake. Most importantly, she loves to spend time with her family.