I know, it's not Friday. We spent last week taking care of each other while the stomach flu decided to hit each of us. It was a very long and exhausting week! This week has started out crazy with Dr.'s appointments, house hunting and trying to scrub the house to get rid of germs. I don't know about you, but after a flu breakout in our house I always feel like everything needs to be scrubbed and washed.
I thought y'all might enjoy having a couple Pinsational Finds in one week, so today I have 17 St. Patrick's Day Goodies for you to enjoy. Happy Wednesday!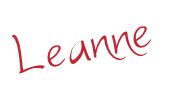 This post may contain affiliate links. All opinions are my own!
The following two tabs change content below.
Leanne is a wife of 30 year, has 3 children and 6 grandchildren. She has been blogging for over 2 1/2 years and love to meet new people. She also love to crochet, craft, and bake. Most importantly, she loves to spend time with her family.