If you have been following us, you know that we have all of our adult children and their families living with us at this time. Below are 10 Tips for Multi-Family Living that can work for every family situation.
We have 8 (sometimes 9) adults, 4 grandchildren and 5 (sometimes 6) dogs. The sometimes comes from my son-in-laws cousin. He is an over-the-road truck driver and our home is his home. We see him about twice a month (sometimes more). Here are some of our most important tips to having multiple families living in one house.
**Update** We are still a Multi-Family home, but are down to having one family with us instead of 3. As trying as it got, as a family we became closer. I love that my children and their spouses have a great relationship with each other and enjoy spending time together. By the time families started moving out, we had 5 grandchildren. Of course we now have 6 and loving every minute of it.
Please Note: This post contains affiliate links. See our disclosure policy for more information.
10 Tips for Multi-Family Living (Works for Every Family)
Everyone has their own space – This can be a difficult thing to accomplish if you don't have the room. Luckily for us, each family has their own space! We all need that "sanctuary" to retreat to. Having your own space accomplishes that. We have a "mother-in-law" house in our backyard. The family that is the largest is staying in that space. It doesn't have a kitchen, but it has everything else needed for a nice "home" for the family.
Share in Meals – This includes planning, shopping and preparing. We all have our favorite meals. In rotating responsibilities each family has an opportunity to have their favorite meals once a month. This works great! You never know if you might end up with a new "favorite"!
Communicate! – This is probably the most important of all! We have had one on one talks with each family. Sometimes it's about conflict. We will give our advice on how to handle it. If we feel it is worthy of a "Family Meeting" then we call a meeting and everyone is required to be there. By communicating you stop major problems before it happens.
Respect Each Other's Way of Parenting – As we all know, each family is different when it comes to parenting. You may not agree with how the other is parenting, but if it works for them then don't say a word. We have had each child come to us for suggestions on how to handle a situation with their child. Give them you guidance and then leave it at that. If they choose to use it, great! If not, then keep quiet!
Everyone Needs to Have Their Own Area in the Home they are Responsible for – One Family is Responsible for the living room, another for the bathrooms. We all rotate the Kitchen. It is the most used room in the home. Whoever is the cook is not allowed in the kitchen during cleaning time!
Organize – When you have 3 families living with you, organization if the only way to survive! Think of the mail alone! Oh my gosh do we get the mail. Most of the time it isn't for us. It used to be that mail would end up in one pile. You will miss important mail if you do it this way, believe me! Having 8 adults in the home, a different person is always grabbing the mail. Now we have a spot for each person's mail. If you aren't organized, I promise, you will lose your mind!
It's Okay to Take a "Time-Out" – You will have times of being overwhelmed. Someone is cooking, kids are playing and running around. Everyone's voice seems amplified! When this happens go to your "sanctuary"! Give yourself a time-out! We all have those moments. We have all taken our share of time-outs. It helps to calm yourself before you explode.
Here's an Example: The other day my husband was helping others do some cleaning while I was working. One of the grand kids turned the hose on in the backyard and made a mud-hole (my husband takes pride in his yard)! Another grandchild was throwing a major fit with his parents and yet another one was fighting going to take a nap (we could hear him from his home in the backyard).
Hubs came into the room where I was working and said "Let's go for a drive". I didn't have to ask, I could read his face. So I grabbed some things and in the truck we went. Down to the park, where we sat and watched the barges come up Neches River from the Gulf. It was the best thing we could have done. By the time we went home (2 hours later) he was calmer and was able to handle the rest of the day.
Respect the Ones you are Living With – If you are one that is living in a parent's home, you need to respect them. I'm proud to say that this has never been an issue in our home. My children were taught at an early age about being respectful. Respect and Kindness goes a long way!
Treat Everyone Fair (According to Situation) – Everyone's situation is different. We have a "rent" for each family. This is to help with utilities. We do not charge large amounts. They are trying to better their situation so that they can get their own home, and yes! We want them to! Charging a large amount defeats this purpose. On the other hand, they can not expect their dad and I to pay for everyone. We do not charge the same amount for one as we would the other.
Example: One family is not working at this moment and doesn't have money coming in. We would not charge them the same as another child that is working and making decent money. The one that doesn't have income picks up the slack in other areas in the home. Such as, mowing the yard. Cleaning gutters, etc. There is no possible way to treat everyone equally, but you can treat everyone fairly according to situation.
Patience! – Another Big one! If you are not a patient person, this one will be the hardest for you. In the long-run, you will need to learn patience if you want to survive Multi-Family living! We all have areas in our life that we need to work on. If patience is one of them, take is as a challenge and learn it well!
There you have it! As you can see, many of these can be used in any family situation.
What are some tips you have found useful!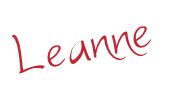 This post may contain affiliate links. All opinions are my own!
The following two tabs change content below.
Leanne is a wife of 30 year, has 3 children and 6 grandchildren. She has been blogging for over 2 1/2 years and love to meet new people. She also love to crochet, craft, and bake. Most importantly, she loves to spend time with her family.